This large covered space allows for a party to spread out according to guests desires.
Welcome to The Big Barn in San Antonio! We're happy to have you here!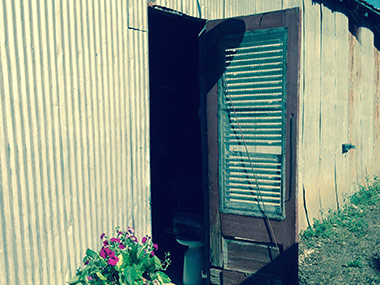 The old hay barn has found new life as a gathering place for celebrations, parties, dinners or just hanging out.  Sprinkle a little sawdust on the concrete floor and you've got a dance hall.  Or put chairs in a semi-circle and you have a Super Bowl party.  The arrangement can be casual seating at bar stools, patio chairs and occasional tables or more structured seating at banquet tables.
Our feed-trough-turned-buffet-table allows folks to graze whether you're offering pretzels and peanuts, dip and veggies from the garden or a full barbecue spread. Ice in an old bucket makes a perfect beverage dispenser.
Swirling ceiling fans keep the space cool and party lights overhead add a festive air. There are plenty of electrical outlets for music, video and lighting.
In the old days, cowboys tumbled hay bales out the back doors of the barn for the cattle.  Now that opening frames a pastoral view of horses grazing in the pasture.
This large covered barn offers indoor party space in addition to the surrounding grounds so guests can spread out and choose where they feel most comfortable.